Sebastian Bach's Feud With Michael Sweet Heats Up Again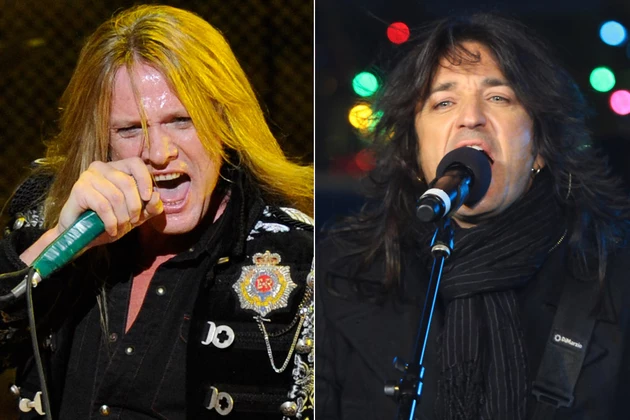 A long-simmering feud between Michael Sweet and Sebastian Bach has erupted into a round of public name calling.
Sweet labeled Bach a "tool," after praising another singer's version of one of Skid Row's signature songs, prompting Bach to accuse Sweet of having a "big f—ing mouth," then seeming to threaten him with violence: "Can't wait to see this pussy in person again someday," Bach said via Twitter.
Michael Sweet posts video to FB of 15 yo girl singing "I Remember You" Calls @sebastianbach a "tool" in the process. -_- pic.twitter.com/iKOKMtGV3P

— GenX Gaming (@GenXGamingLPs) November 27, 2016
Sweet traces the disagreement back to a scuttled studio collaboration with Bach, which the Stryper frontman discussed in a broadcast interview last year with Eddie Trunk. Bach firmly denied Sweet had been asked to produce the album. Sweet says he subsequently received an angry email from Bach – but no response on trying to mend fences.
Then, last week, Sweet shared a video on Facebook of 16-year-old Stryper opening act Moriah Formica performing "I Remember You," adding that "she kills this and, in my humble opinion, smokes the original singer." Bach originally took that power ballad to No. 6 with Skid Row in 1989.
"I suppose I shouldn't have said that," Sweet now says, via Facebook. "I'll admit to my mistakes and apologize if need be. … I do my best to be honest yet not to be mean-spirited or destructive. I'm also no pussy. Obviously, Sebastian doesn't know me, because if he did, he'd know that as fact."
Formica also appeared on Sweet's most recent solo album, titled One Sided War, singing a duet called "Can't Take This Life."
See the Top 100 Albums of the '80s
Source:
Sebastian Bach's Feud With Michael Sweet Heats Up Again
Best of 106.9 Classic Rock