Ritchie Blackmore's Rainbow Have Recorded New Music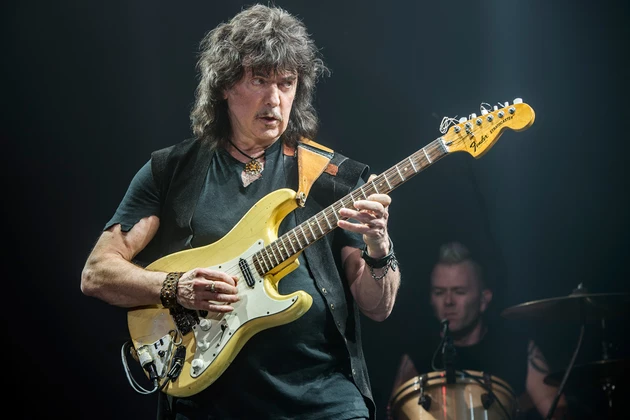 The 21st-century incarnation of Ritchie Blackmore's Rainbow have recorded new music, the band leader has revealed.
The former Deep Purple guitarist's return to rock music was originally planned to be no more than a handful of concerts in 2016 while he took a break from his Renaissance-inspired band Blackmore's Night. Despite ruling out any further developments, he later confirmed a run of U.K. appearances for June this year – and he's now reported that at least one new song has been laid down.
"We were recording until yesterday in the studio at our home," Blackmore recently told Japanese publication Burrn! (via The Highway Star). "We recorded some songs for Blackmore's Night and two songs with the new singer for Rainbow."
That singer is Ronnie Romero, who also fronts his own band Lords of Black. "When I heard him, he seemed like the right guy to sing the Dio-era songs of Rainbow," Blackmore said. "He's versatile. He can sing like Freddie Mercury, Ronnie James Dio or Graham Bonnet. I wrote one new song and also recorded one of the old ones. Ronnie, who's in Madrid now, added his vocals and sent it back."
But Blackmore hasn't decided how or when the material could be released, noting, "Rather than make an album, we may release as singles."
He also explained why he decided not to rehire former Rainbow singer Joe Lynn Turner, who at one point appeared to have been convinced the job was his. "I thought European fans wanted to hear the Dio lineup," Blackmore said. "I was very surprised that tickets sold out in 15 minutes. It was nice to know so many people wanted to hear Rainbow at this time."
The notoriously straight-faced guitarist added that his young son and daughter are pushing him in a more cheerful direction: "I cannot believe I am playing the father's role," he said. "Our children are very natural and tell you the naked truth. Rather than make me mad, it makes me laugh. Especially Autumn – she makes me laugh all the time. She's a natural comedian. Although I try not to laugh more than five times a year, I could break that rule one day."
Top 50 Classic Heavy Metal Albums
Source:
Ritchie Blackmore's Rainbow Have Recorded New Music
Best of 106.9 Classic Rock