'Grand Theft Auto V' Classic Rock Station Features Bob Seger, Robert Plant + More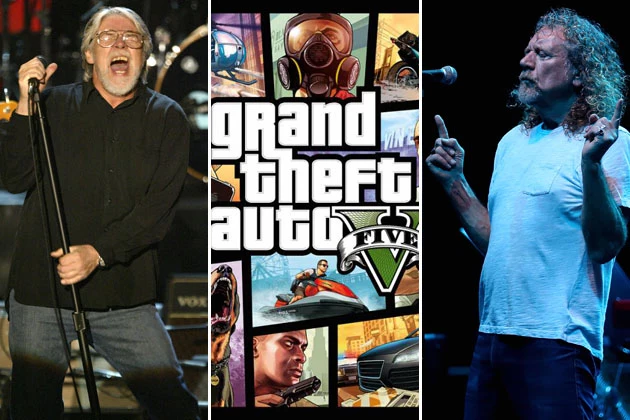 Bob Seger and Robert Plant are two of the 23 artists who make up the playlist of the classic rock station found in the 'Grand Theft Auto V' video game. And there's probably a lot of people listening to those songs right now, since the game earned over $800 million in sales on its Sept. 17 release day, the most successful first-day figure in history.
According to igta5, Plant is represented by his 1983 hit 'Big Log,' while Seger is the only artist with two songs under his own name, 'Night Moves' and 'Hollywood Nights.' Kenny Loggins, who is also the DJ of the game's "Los Santos Rock Radio" station, contributed 'I'm Free (Heaven Help the Man)' and a song he co-wrote, 'What a Fool Believes' by the Doobie Brothers.
In addition to 'Hollywood Nights,' the station features a couple of other classic rock songs that seem to fit in perfectly with the Los Angeles-based game that is equally celebrated and condemned for its portrayal of crime and violence: Elton John's 'Saturday Night's Alright for Fighting' and the Steve Miller Band's 'Take the Money and Run.'
'Grand Theft Auto V' Los Santos Rock Radio Station Playlist
Billy Squier – 'Lonely Is the Night'
Bob Seger – 'Hollywood Nights'
Bob Seger – 'Night Moves'
Small Faces – 'Ogdens' Nut Gone Flake'
Queen – 'Radio Ga Ga'
Foreigner – 'Dirty White Boy'
Gerry Rafferty – 'Baker Street'
The Alan Parsons Project – 'I Wouldn't Want To Be Like You'
Elton John – 'Saturday Night's Alright for Fighting'
Greg Kihn Band – 'The Breakup Song (They Don't Write 'Em)'
Simple Minds – 'All the Things She Said'
Julian Lennon – 'Too Late for Goodbyes'
The Doobie Brothers – 'What a Fool Believes'
Phil Collins – 'I Don't Care Anymore'
Chicago – 'If You Leave Me Now'
Def Leppard – 'Photograph'
Steve Winwood – 'Higher Love'
Stevie Nicks – 'I Can't Wait'
Don Johnson – 'Heartbeat'
Robert Plant – 'Big Log'
Kenny Loggins – 'I'm Free (Heaven Help the Man)'
The Cult – 'Rain'
Steve Miller Band – 'Take the Money and Run'
Source:
'Grand Theft Auto V' Classic Rock Station Features Bob Seger, Robert Plant + More
Best of 106.9 Classic Rock