40 Years Ago: George Harrison Knocks Paul McCartney Off the Top of the Charts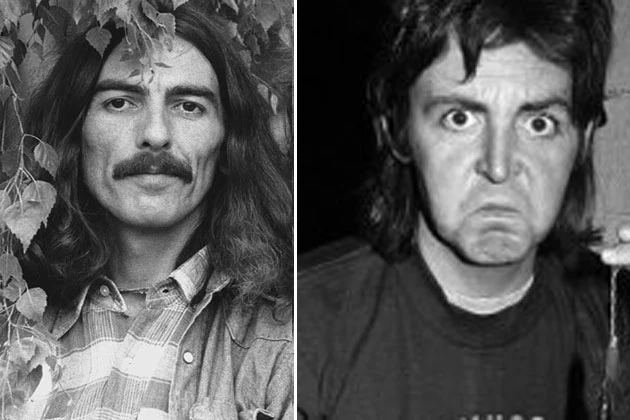 Three years after breaking up, the Beatles were still quite capable of reaching the top of the best-selling singles charts. Only problem was, sometimes they had to climb over each other to get there.
Before their official dissolution in April of 1970, each of the band members had already released at least one solo effort. Ringo Starr issued 'Sentimental Journey' in March of 1970, George Harrison released his 'Electronic Sound' a year earlier. John Lennon had been the first to branch out with his trio of avant garde LPs with wife Yoko Ono, and his official solo debut single of 'Instant Karma' in early 1970. Paul McCartney would finally put forth his debut solo LP just as the split was made public.
Each one of them had success right of the bat, with high charting singles and hit albums. A friendly sort of rivalry would ensue for the next decade with the back and forth success of solo Fabs discs. This was most evident in late June of 1973 as George Harrison's 'Give Me Love (Give Me Peace On Earth)' toppled the weeks' previous chart topper, McCartney's 'My Love.' The lead track from Harrison's 'Living In The Material World' LP, 'Give Me Love' preceded the album's release by a few weeks and had no trouble rocketing to the top of the Billboard chart, scoring George his second solo No. 1 after 'My Sweet Lord' in early 1971.
McCartney had been riding high with the single 'My Love' as well as the accompanying LP, 'Red Rose Speedway,' but in short order, Harrison took the honors. In an interview with Crawdaddy magazine, Harrison said of the hit album, "Oh yeah. I'm living in it. But people interpret it to mean money, cars, that sort of thing– although those are part of the material world. The material world is like the physical world, as opposed to the spiritual. For me, living in the material world just meant being in this physical body with all the things that go along with it."
Source:
40 Years Ago: George Harrison Knocks Paul McCartney Off the Top of the Charts
Best of 106.9 Classic Rock