Brian May Teases New Queen Album and Tour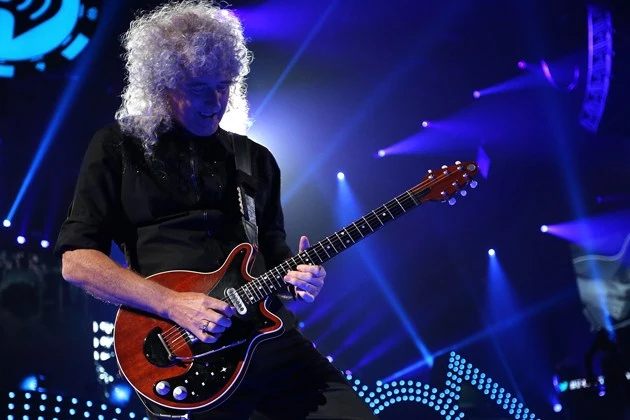 Get ready, Queen fans: It looks like 2014 is going to be a banner year for the band.
Guitarist Brian May hinted at big things on the horizon during a recent blog post, including what sounds like an extensive tour as well as the completion of previously unreleased tracks featuring performances from the group's late frontman, Freddie Mercury. Also on the horizon: the long-in-the-works Mercury biopic, with actor Ben Whishaw set to play the singer.
Calling the process behind the scenes of the movie "a long haul" and admitting that "windows can close unexpectedly" in Hollywood, May sounded a note of cautious optimism about the project, saying, "The lineup is looking very exciting . . . I think just the announcement will cause a bit of a sensation!"
May went on to write about the possibility of a new tour, recently discussed by himself and drummer Roger Taylor. "I saw an amazing working list of dates, and . . . well, I think we're up for one more swing out there," he mused. "In fact, in our Queen meeting today, we drank on it!"
Fans may also want to toast the prospect of new recordings from the band's classic lineup, which May described as part of "our forthcoming album with at least THREE previously unheard tracks with Freddie singing." While he wasn't forthcoming with any further specifics, he closed by adding, "Working hard on this material now. So many things . . . but everything will unfold."
Source:
Brian May Teases New Queen Album and Tour
Best of 106.9 Classic Rock