Adler Announces 2013 'Back from the Dead' Tour Dates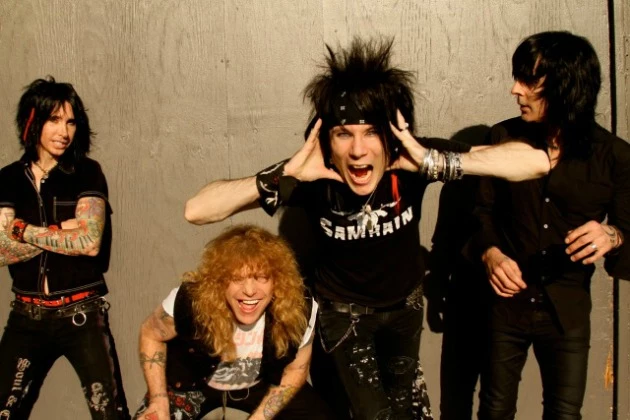 If you're concerned about getting your recommended annual allowance of ex-Guns N' Roses drummer Steven Adler — and who isn't? — never fear: Adler has just announced the first leg of the ambitious world tour he'll be mounting this year with his new band, the aptly named Adler.
Adler and the rest of the Adler lineup will be hitting the road in a couple of weeks, when they kick off their 'Back from the Dead' trek with a March 2 show on Ramona Mainstage in Ramona, Calif. It'll keep the band busy until September, when they're scheduled to head to Europe for a series of dates that will take them through Spain, Germany, Italy, Holland, France, Belgium and the United Kingdom.
The 'Back from the Dead' tour takes its name from Adler's debut album, released last November. Enthused Adler in a press release, "I'm so proud of this record. This is the record I've been wanting to make for over 20 years and now I've finally found the band with the perfect chemistry to make it happen!"
Adler 2013 North American Tour Dates
3/2 – Ramona, Calif.
3/7 – Tokyo
3/8 – Tokyo
5/16 – San Juan Capistrano, Calif.
5/17 – Las Vegas, Nev.
5/18 – Tempe, Ariz.
5/30 – Hermosa Beach, Calif.
5/31 – Hollywood, Calif.
6/19 – Tacoma, Wash.
6/20 – Seattle, Wash.
6/21 – Jerome, Idaho
6/22 – Idaho Falls, Idaho
6/23 – Arvada, Colo.
6/26 – Bismarck, N.D.
6/27 – Fargo, N.D.
6/28 – Waterloo, Iowa
6/29 – Lincoln, Neb.
6/30 – Mankato, Minn.
7/3 – Whitesburg, Ky.
7/4 – Janesville, Wis.
7/5 – Detroit, Mich.
7/6 – Rochester, N.Y.
7/7 – Dennisport, Mass.
7/8 – Philadelphia, Pa.
7/9 – White Marsh, Md.
7/10 – McKees Rocks, Pa.
7/11 – New Castle, Pa.
7/12 – Amityville, N.Y.
7/13 – West Greenwich, R.I.
7/14 – N.J.
7/15 – New York, N.Y.
7/16 – West Springfield, Va.
7/17 – Marion, Ohio
7/18 – Akron, Ohio
7/19 – Cleveland, Ohio
7/20 – Bolingbrook, Ill.
7/21 – St. Louis, Mo.
7/24 – Houston, Texas
7/26 – Dallas, Texas
7/27 – San Antonio, Texas
7/28 – El Paso, Texas
Source:
Adler Announces 2013 'Back from the Dead' Tour Dates
Best of 106.9 Classic Rock